Diann Brophy, OD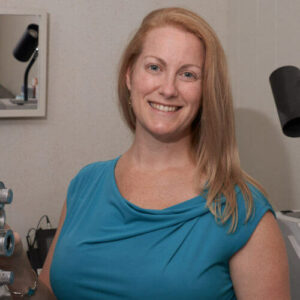 When I was in the fourth grade, I had an extraordinary science teacher who made each lesson seem intriguing. One lesson in particular struck a chord with me; the human eye and its ability to change light into images that the brain can "see." It was an amazing concept for me. I started asking my teacher and parents more about the eyes, eye doctors, and everything else I could, to learn more. At my next eye exam, the optometrist took his time explaining the eye and what he was checking throughout the process. My favorite part was when he let me use the "flashlight" to look into his eyes. I was hooked! I then decided I wanted to be an eye doctor. This idea consumed me so much that it spilled into my other studies as well. My parents got a call from my English teacher asking how I dreamed up the "Hippopotamus Optometrist," a short story I scored an A+ for!
In my 14 years of practice, I have been fortunate to learn from exceptional colleagues in all different modes of eye care. The most rewarding part of practicing with an ophthalmology practice is the ability to help our patients by diagnosing and treating ocular pathology using the latest technology. In addition, while working with the Commission for the Blind, I found an even deeper understanding of the importance of one's overall health and the impact of visual changes. In our practice, I use this knowledge to help patients understand preventive care as well as offer options such as specialty contact lenses for patients with unique visual needs.
When not in the office, my husband and I enjoy outdoor activities, traveling, and spending time with friends and family. Our young daughter and son are our latest adventures!