Margi Shah, OD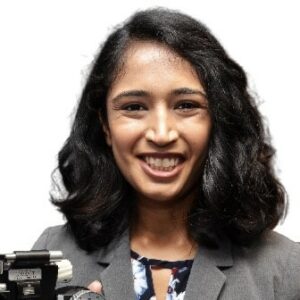 My passion for optometry stems from growing up with my father who was blind. He was diagnosed with retinitis pigmentosa, an ocular condition which gradually leads to vision loss. His condition has made me realize how complex blindness is, which drove me to understand it better through optometry. I want to help patients maintain their eyesight by providing the best possible care through continuous learning and remaining current on the latest studies and technology.
I earned my Bachelor of Arts degree in Neuroscience at Franklin & Marshall College. I completed my optometric education at the Pennsylvania College of Optometry (PCO) in Philadelphia where I graduated magna cum laude honors upon completion of my doctorate degree. During my time at PCO, I was inducted into the Beta Sigma Kappa International Optometric Honor Society for my academic excellence. I developed passions for ocular disease, primary care optometry, and contact lens fittings throughout my rotations, including the Lyons VA Hospital in New Jersey.
In my spare time, I enjoy running, listening to podcasts, and exploring and supporting local businesses. I take pride in my heritage and can speak Gujarati fluently.