Testing Technology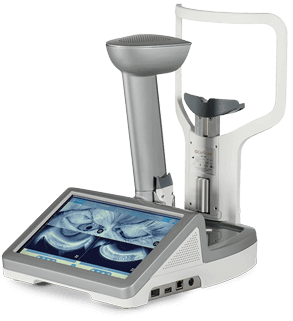 LipiScan
Diagnosis and treatment of dry eye syndrome due to MGD is important for cataract, refractive, and other surgical patients. It is also important for contact lens users and any patient experiencing dry eye symptoms. Our office prefers to get baseline gland imaging on every patient, so that we may monitor progression of possible MGD. Meibomian glands are located in your eye lids. They secrete an oily substance which coats the tear film covering the eye and prevents evaporation of your tears. Your tears keep the cornea of your eye moist, clear and smooth.
Dry eye caused by MGD occurs when there is insufficient secretion of meibum, the oily substance, due to either physical blockage of the glands or to malfunctions in the glands themselves. Insufficient oil allows more rapid evaporation of your tears. The diagnosis if meibomian gland dysfunction (MGD) is made by thorough clinical examination. The diagnosis of MGD can be aided with LipiScan. LipiScan allows your doctor to directly view the health of your meibomian glands in high definition using a simple illumination device to define the glands in your lower eyelids.
MGE and gland secretion grading from TearScience on Vimeo.
---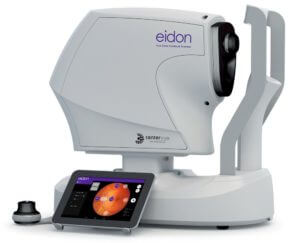 EIDON
The first True Color Confocal Scanner in the market.
Ask our staff if our digital imaging option is right for you! In addition to saving time, this technology can allow our patients to return to normal activity immediately after the appointment. We are pleased to offer this option for the convenience and care of our patients. Digital imaging allows your eye doctor to evaluate the health of the back of your eye, the retina. Our office stores these images in your record, allowing your doctor to detect and measure any changes to your retina each time you get your eyes examined, as many eye conditions, such as Glaucoma are diagnosed by detecting changes over time.
EIDON is the first system to combine the advantages of SLO with the fidelity of true color imaging, setting new performance standards in retinal imaging. EIDON provides unsurpassed image quality, 60° field in a single exposure, a unique, live, confocal view of the retina, three different imaging modalities and dilation-free operation, all integrated in a versatile system that provides new opportunities in retinal diagnostics. Differently from existing SLO systems, EIDON is a scanning ophthalmoscope that uses WHITE light instead of monochromatic lasers, hence providing true color imaging and offering major benefits in terms of fidelity to real retinal appearance, no distortion and dilation-free operation. The unique combination of confocal imaging and white light illumination offers superior image quality and color fidelity. Using white light, the retina appears as it looks when directly observed, so as the entire visible spectrum is present in the captured image.
---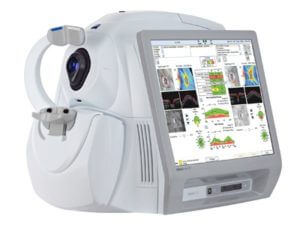 HD-OCT
With OCT, your ophthalmologist can see each of the retina's distinctive layers. This allows your ophthalmologist to map and measure their thickness. These measurements help with diagnosis. They also provide treatment guidance for glaucoma and diseases of the retina. These retinal diseases include age-related macular degeneration (AMD) and diabetic eye disease. OCT is often used to evaluate disorders of the optic nerve as well. The OCT exam helps your ophthalmologist see changes to the fibers of the optic nerve. For example, it can detect changes caused by glaucoma.
Cirrus HD-OCT captures a dense cube of scan data in just 2.4 seconds, providing 2-D and 3-D images, layer segmentation and optical biopsies for assessment of the retinal condition. Fovea Finder™, a ZEISS proprietary algorithm, automatically identifies the fovea and centers the macular thickness analysis. For assessment of the Optic Nerve Head and RNFL, the cube scan enables automatic determination of cup and disc boundaries, even for tilted discs. Precise registration allows identification and evaluation of change in RNFL and Macular thickness. GPA™ evaluates RNFL over time to identify statistically significant change, providing trend analysis and event analysis. Macular change analysis provides qualitative and quantitative side-by-side comparison of retinal exams over time.
---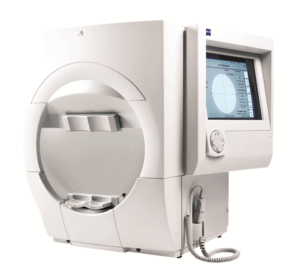 Visual Field Testing
A visual field test measures how much 'side' vision you have. It is a straightforward test, painless, and does not involve eye drops. Essentially lights are flashed on, and you have to press a button whenever you see the light. Your head is kept still and you have to place your chin on a chin rest. The lights are bright or dim at different stages of the test. Some of the flashes are purely to check you are concentrating. Each eye is tested separately and the entire test takes 15-45 minutes.
Advanced analysis with comprehensive connectivity options validated by more than 30 years of research, design and clinical experience, the Humphrey® Field Analyzer (HFA™) is the accepted standard of care in glaucoma diagnosis and management. With over 65,000 installed units worldwide, the HFA is the premier automated visual field analyzer.
---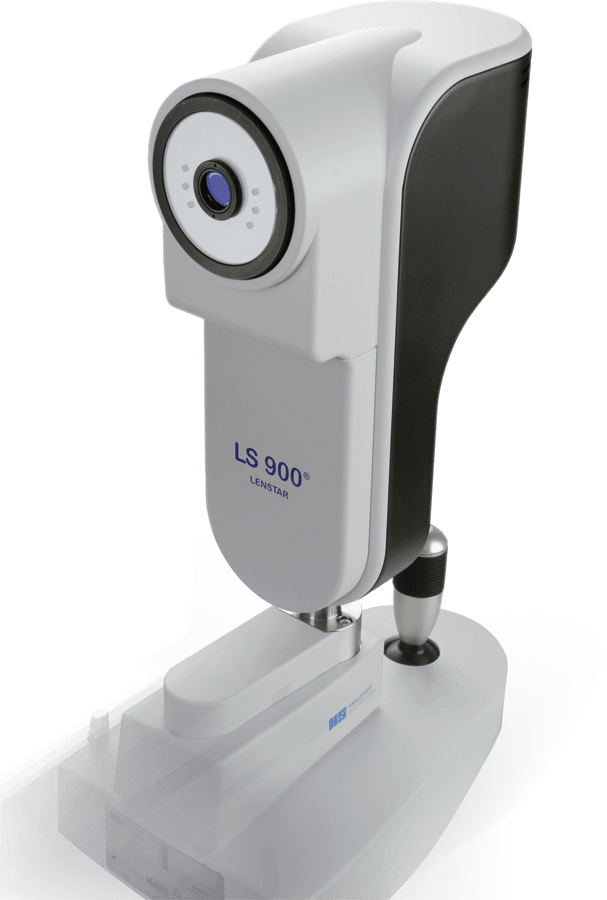 LENSTAR
The Lenstar provides state-of-the-art measurements to assist in the pre-operative measurements for cataract surgery. The LS 900 is a non-invasive, non-contact OLCR (optical low-coherence reflectometry) biometer used for obtaining ocular measurements and performing calculations to assist in the determination of the appropriate power and type of IOL (intraocular lens) for implantation after removal of the natural crystalline lens. The LS 900 measures:
Axial eye length
Corneal thickness
Anterior chamber depth
Aqueous depth
Lens thickness
Radii of corneal curvature of flat and steep meridian
Axis of the flat meridian
White-to-white distance
Pupil diameter
Lenstar provides highly accurate laser optic measurements for every section of the eye −from the cornea to the retina− and is the first optical biometer on the market that can measure the thickness of the crystalline lens. With its integrated Olsen formula and the optional Toric Planner featuring the Barrett Toric Calculator, Lenstar provides the user with latest technology in IOL prediction for any patient. Precise measurement of the entire eye − from cornea to retina − is key to achieving optimal IOL prediction accuracy in surgery. Lenstar is the first optical biometer to provide the surgeon with all the measurements necessary to take full advantage of the latest IOL prediction methods, such as the Barrett and Olsen formulae, now integral to Lenstar.
rendia video